Vaastu Compliance – Where Technology Meets Tradition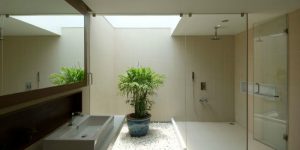 A rising demand for functional housing and proper residential spaces have resulted in a dearth of appropriately constructed homes. Many developers resort to using the available floor space as economically as possible which results in shoddy layout creation that does not lie in compliance with certain conditions of vaastu shastra.
We, at Svamitva, believe in the rules of vaastu shastra as they are rooted in various scientific and environmental phenomena and have known to affect lives and moods of the residents in a way that was beneficial for them. In the variety of projects undertaken by Svamitva that have multiple layout sizes as well as different types of rooms, the principles of designing a vaastu have been relied upon and residents are advised to pertain to them when setting up their home.
While designing layouts, the flats are usually maintained in the shape of a rectangle or a square. None of the layouts should result in a T-shaped building. The design of a home should follow the geometry of nature so that the flow of energy is not dampened. A rectangular shape mimics the quadrilateral shape of leaves which evokes a sense of care within the home.
The North and East sections of the home should be more open as compared to the South and West sides. The North depicts the beginning of the magnetic field which ends at South, whereas the East denotes the beginning of the day with a sunrise and culmination in a sunset at the West. Homes are receptors of energy which is why a flat with a balcony facing east is a lucky find for most residents.
The entrance of a home should not face the elevator of the building. This principle is a combination of tradition and social behaviour. Homes are a private space and even open doors of the entrance should provide it. Moreover, every person exiting the lift would direct their glance towards the home which sends a lot of unfiltered energy directly to the flat. This disturbs the synergy that the home shares with its residents.
Kitchens should be isolated from bathrooms and toilets for the simple reason of maintaining health and hygiene. They should also preferably be oriented towards South-East and never in the North-East. The energy flow initiates from the North-East direction and kitchens are the sections of high energy consumption since they feed the entire home. Placing the kitchen in the North-East restricts the distribution of the energy to other sections of the home. Moreover, South-East orientation provides a favourable position for the morning cooking to take place under the healthy rays of the Sun.
Vaastu Shastra is an expansive science that goes beyond apartment layouts and is relevant to the essence of Earth itself. However, by being aware of some simple principles, one can make an informed and intelligent choice in choosing their home and leading a fruitful life.