THE WAY FORWARD FOR THE INDIAN REAL ESTATE INDUSTRY

We are experiencing an unprecedented pandemic situation of the century for which the world was not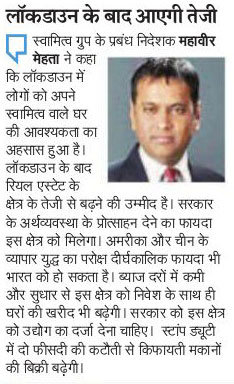 prepared and the leading economies of the world such as the United States, China, Germany, Europe and many others have been hit hard.
With the US emerging as the epicenter of this pandemic, and considering China and Europe are already badly hit, the heat is on the world economy and a phase of slowdown is sure. It is still not clear how much time it is going to take for the world to recover from the pandemic and see that it doesn't reappear which is the priority for all major economies. Apart from dealing with health and safety concerns, it is also necessary for all the world's leading economic countries to come up with stimulus plans to ensure that their economies survive in this time of negative growth of GDP.
If we look at history for inspiration, during the previous recession that hit the US economy way back in 2008 we see that the major cause was the US Government's failure to Regulate financial institutions. In the recession of 2008, India was better positioned and could come back fast because of reforms, falling prices, boom in NBFCs and Government schemes.
REAL ESTATE

As you all know the Indian Real Estate was already in correction mode and it has already experienced a significant price correction before this pandemic. Major factors like De-monetization, RERA, GST reforms & failure of large NBFCs in 2018 led by IL&FS have already given real estate a big jolt. Now in this present scenario when the world is under lockdown the only thing on people's minds is "HOME" and they have started valuing the size of their home, the comfort of the working from home and the emotional security of being with loved ones during the lock-down. This has made them realize the necessity of owning their "OWN HOME". Owning a home has always been a major milestone in a person's life and it is everybody's life time dream to own a home.
INDIAN REAL ESTATE WILL GROW FASTER THAN OTHER ECONOMIES, WHY?
Real Estate in India is the second largest employment provider in the country and it contributes 15% to GDP. As such, whatever stimulus the government proposes for the economy will undoubtedly add the growth of real estate.

As the US & CHINA trade war Intensifies and as the world's views towards China Change India will greatly benefit by becoming a global manufacturing hub, which in turn will bring a lot of manufacturing companies & huge investments into India which will naturally increase the demand for office space, warehousing in India. Shri.Narendra Modiji's vision to make India a 5 trillion economy can take advantage of the current situation and invest hugely on Infrastructure Projects which in turn will create a lot of employment.

India also has a huge workforce of educated and skilled manpower and the Government's focus on skill development is going to help the economy recover faster.

Stricter regulations for NBFCs and consolidation of banks ensured that NPAs we already accounted for and resolved before the pandemic could impact India.

The Global fall in oil prices has benefited the Government which now has huge foreign reserves as well as a sizable stockpile of foodgrain with the FCI. The strength of the RBI can be further utilized to make banks more cash rich, thus enabling them with new regulations to lend more aggressively which will further help the economy to thrive.
THE WAY FORWARD
Indian Real Estate is going to come back faster than expected and it is going to be the front-runner for economic growth.
The financial crises and volatility in the stock markets makes the Real estate asset class a preferred investment option for long term.

The interest rate reduction and further correction in interest by banks will make this one of best times for home buyers and to invest in Real Estate.

The Government should further reduce interest rates and should stop milking the Real Estate Sect. Rather The Government should give it industry status and make cheaper funds available for land purchase and construction, which brings in more projects in the long run.

Reduction in stamp duty for affordable housing to 2% will also help sales.

Correction in GST, Reducing GST rates on products like Cement/Steel and giving input credit options will make housing affordable for all.

India also has the advantage of its population and its consumption

In Economics such as Australia, which believe real estate is industry, They have

The Lowest rate of interest for housing,

Zero percentage stamp duty for first time home buyer

A cash subsidy of 10,000 AUD.

They even have tax benefits in form of negative gearing – which means that that if you are own a second property then you are allowed claim depreciation on both your properties and deduct it from your tax liability.

So the tax benefit, lower interest rate, good rental for students housing etc. helping the real estate industry to grow.

The Government also has to think in-line with other economies to bring in a lot of FDI into Indian real estate.

Indian IT industry is going to hold its position in the world economy and apart from that the Indian health industry, Science and technology industry as well as the agriculture industry is going to boom, which in turn will increase the demand for Real Estate in the Warehousing, and Office Space Segments, which in turn will increase the demand for residential real estate as well.

The Government's reforms in helping poor people through the opening of Jan Dhan accounts, enabling direct beneficiaries under the PMAY Scheme and reduction in corruption is going to create new income resources for the middle class sector increasing buying power which will again help the real estate sector.

A wave of Cost-Cutting and Corporate Streamlining will turn the world's Companies towards India. This will organically create a huge Real estate requirement in office spaces which will also help the residential sectors.

The green shoots can already be seen. With the use of technology and Digital Platforms, some Real Estate Companies actually managed to sell inventory worth Rs. 200 cr in this Covid-19 situation.
In my opinion various asset classes like Co-living, Co-working, and the culture of "Work From Home" has given birth to new requirements for offices, housing, hospitality, warehousing, and retail. The unexplored sector of student housing c will also contribute to a surge in the real estate market. As such, I have no doubt that it is an Industry which is going to survive this storm and emerge stronger.
This is time to show our leadership by being patient and calm. We need to build relationships with stakeholders, reduce your overheads. We need to do a thorough cost analysis and keep an eye on purchases and sales actively. This is the time to collaborate with colleagues so don't hesitate to ask. Try to liquidate assets and keep cash. Try to reduce debt and bring-in some new construction methodologies.
There is no need to worry – You will definitely see the light at the end of this seemingly endless tunnel. Let us all remain positive and thrive for positive things to happen so that the power of our subconscious minds will drive us to be successful.
By, Mr. Mahaveer Mehta
Managing Director, Svamitva Group.