[vc_gallery type="flexslider_slide" interval="0″ images="9797,9798″ img_size="1400×650″ onclick=""]
RERA No. PRM/KA/RERA/1275/448/PR/190305/002466
[heading text="RERA No. PRM/KA/RERA/1275/448/PR/190305/002466″ tag="h6″]
[heading text="OVERVIEW" tag="h1″ align="center" color="#ee1a3b"][line_solid icon="circle"]
Spread Over 15 Acres of land , with main road Connectivity. The Project is divided into two phases :
Phase-1 of 10 Acres
Phase -2 of 5 Acres.
The project Provides environment for people to liveaway from the daily chaos of city traffic, pollution and yet close to city for your daily needs. Siddaganga Nagar comes with the best in class infrastructure with underground drainage and electrical system, end to end roads, Storm water drains, Septic tank etc.
[heading text="LOCATION" tag="h1″ align="center" color="#ee1a3b"][line_solid icon="circle"]
Svamitva Siddaganga is conveniently located on Bangalore – Bijapur Road, close ittanahalli College. One of its strongest USPs is that it's far from the madding crowd, but not far enough from urban amenities. Only 4.3 kms from the Hyper Mart the project can easily be commuted to and from through a thriving transport network
Siddaganga Nagar  is close to:
Bijapur City Bus Stop: 8 km
City Corporation Office: 6.9 km
Vijaypur Urban Development Authority: 4 km
Hyper Mart: 4.3 km
Vijaypur District Court Complex: 6.8 km
Essar petrol pump: 2.5 km
St.Jopesh School: 3.9 km
Agriculture College: 700 mtrs
Sai Hospital: 2.5km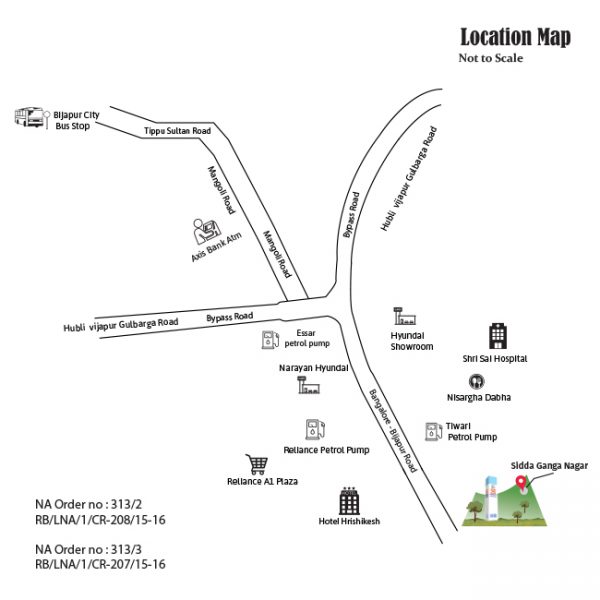 [heading text="AMENITIES" tag="h1″ align="center" color="#ee1a3b"][line_solid icon="circle"]
Your Gateway to Unlimited Happiness
Sidda Ganga Nagar  is replete with the choicest of amenities, which not only complement your stature, but also aid in achieving a holistic living experience – one that allows you to revitalise and connect with your mind, body, and soul.
[heading text="DOWNLOAD BROCHURE" tag="h1″ align="center" color="#ee1a3b"][line_solid]
[heading text="CONTACT US" tag="h1″ align="center" color="#ee1a3b"][line_solid icon="circle"]
Alternatively, Call Us On +91 8880 896 896
RERA No. PRM/KA/RERA/1275/448/PR/190305/002466 | www.rera.karnataka.gov.in
NA Order no : 313/2 RB/LNA/1/CR-208/15-16
NA Order no : 313/3 RB/LNA/1/CR-207/15-16
Site Address:
Siddaganga Nagar: Bijapur – Bangalore Road
Before Hittanahalli College , Vijayapur- Karnataka